EMIT PROJECT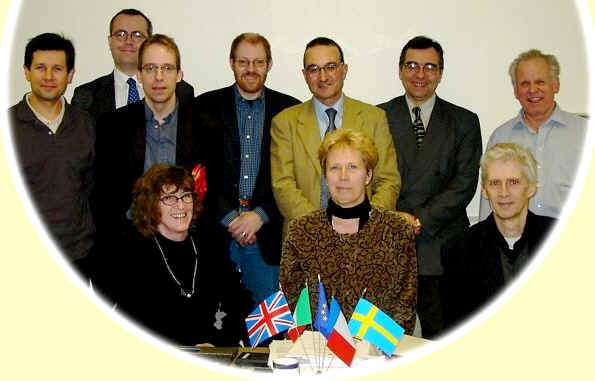 EMIT Consortium during first meeting (February 2002, London)
On the photo (left to right standing): J-Y Giraud, A Simmons, R Wirestam, B-A Jonson, F Milano, S Tabakov, C Roberts; sitting: I-L Lamm, V Aitken, S-E Strand; missing: A Noel, C Deane, C Lewis, M Ljungberg, F Stahlberg, P Smith
European Medical Imaging Technology Training (EMIT)
The objective of the EU Leonardo pilot project European Medical Imaging Technology Training (EMIT) is to develop a work-linked training in hospitals on Ultrasound and Magnetic Resonance Imaging Technology for young medical physics graduates and other healthcare professionals.
Magnetic Resonance is the newest application of physical phenomena to Medical Imaging, and Medical Ultrasound is a widely used and developed Medical Imaging method. The technology based on these two methods is heavily used in hospitals for the purposes of diagnosis of various diseases (most often cancer, neurologic, obstetric, cardiac & vascular). Medical Physicists, Radiographers and Sonographers assure the effective and safe use of this technology in hospitals. The reason for addressing MRI and U/S, is that there are no special training materials available for the trainees in these areas of medical imaging technology. At the same time the use of MRI and U/S in contemporary medicine increases every year and now this type of equipment occupies considerable part of the Hospital budget (most often between 10% and 15% from the cost of all medical technology). Due to this reason the European Conference on Medical Physics Training, (organised by King's College London in ICTP, Trieste, Italy - September 1998) and further Medical Physics Training Seminars during 2000, identified the need for structured medical physics training on this Medical Imaging Technology using dedicated training materials.
The project EMIT will encourage cooperation between Professional Organisations (specifying the training requirements), Universities (having the training/teaching expertise) and Companies/Hospitals (using the technology and employing the workforce), in order to produce a fully structured training on the subject in Europe. The project will significantly improve the competencies of young graduates during their initial vocational training. The professional partner - European Federation of Organisations for Medical Physics, which covers the professional societies of all European countries - will assure wide dissemination, validation of the training and harmonisation of training requirements across Europe. The core of the Partnership has considerable collaborative experience through their previous successful Leonardo da Vinci project (EMERALD), which developed three training modules in Diagnostic X-ray Radiology, Nuclear Medicine and Radiotherapy (now used in 40 countries) - please see http://www.emerald2.net.
The project will develop curricula, timetables and ICT training materials (electronic and WWW-based) for two training modules - on Ultrasound (U/S) and Magnetic Resonance (MR) Imaging - each of approx. 4 months duration. The training materials are expected to be approx. 2000 e-pages/frames. In order to achieve wide European usability, the project will also develop a Digital Dictionary of terms covering the whole field of Medical Imaging Technology (ionising and non-ionising radiation) in 5 languages (English, French, German, Italian, Swedish). The training Guide will also be translated to these languages. The Digital Dictionary will be available free to all professionals in Europe.
The products of this pilot project will be introduced in the Hospitals as work-linked training. This structured training will further be disseminated in Europe through a special Conference. The training materials will be published on two CD-ROMs (with Guide, e-Workbook, Image database). Although the training modules are intended for the initial training of young graduates, these will be made suitable for other older professionals, who want to use them as continuous or life-long training. For this Project EMIT materials will be loaded on an interactive Internet site as distance vocational training.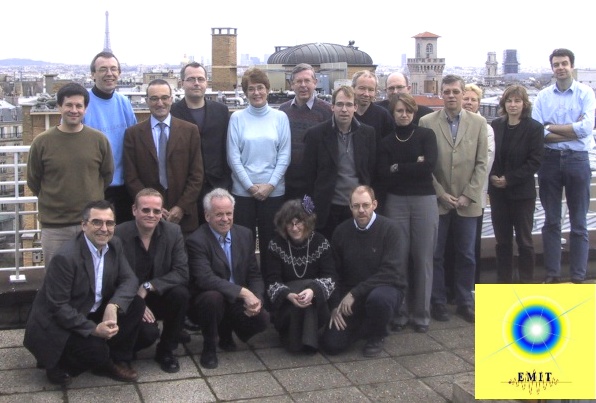 EMIT Consortium during third meeting (February 2003, Paris)
On the photo (left to right standing): J-Y Giraud, M Ljungberg, F Milano, A Simmons, S Sherriff, P Smith, R Wirestam, C Deane, C Lewis, G Clarke, A Noel, V Aitken, M Alamqvist, T Jansson; Front row (left to right): S Tabakov, D Goss, C Roberts, I-L Lamm, B-A Jonson; missing: S-E Strand, F Stahlberg, M Buchgeister

EMIT Euro Conference (2003, ICTP, Trieste, Italy)
Prof.R Stollberger, Dr M Stoeva. Dr R, Dr P Kaplanis, Prof. L Musilek, Dr A Paats, Prof. V Poutanen, Dr S Naudy, Dr C Йtard, Dr E Perrin, Dr A Briguet, Prof E Rosenfeld, Dr G Helms, Prof J Nagel, Dr T Sioundas, Dr P Zarand, Prof M Bracale, Dr C Bigini, Dr F Fidecaro, Prof. L Bertocchi, Dr G Boyle, Mr L Torres, Prof. A Lukoshevicius, Mrs V Gersanovska, Dr C vaan Pul, Prof. M Radwanska, Dr N Teixeira, Dr K Nagyova, Dr A Millan, Dr I Hernando, Prof Y Ider, Dr A Krisanachinda, Prof P Sprawls, Dr S Keevil, Dr C Oates, Dr A Evans, Dr N Fernando, Prof. C Roberts, Dr S Tabakov, Dr C Lewis, Dr V Aitken, Dr C Deane, Dr D Goss, Ms G Clarke, Dr A Simmons, Dr I-L Lamm, Dr R Wirestam, Prof F Stahlberg, Dr M Almqvist, Dr T Jansson, Prof. F Milano, Dr J-Y Giraud, Prof. P Smith, Dr M Buchgeister, Mr A Cvetkov, Ms J Young, Ms M Boutros, MsT Wehrle, Ms S Riches
The New Project
EMIT DICTIONARY
The EMITEL e-Dictionary builds upon and expands the EMIT CD Dictionary, made in 2004 to support the international use of the Medical Physics Training materials EMERALD and EMIT.
Currently the Dictionary includes 25 languages: English, French, German, Swedish, Italian, Portuguese, Spanish, Arabic, Estonian, Hungarian, Lithuanian, Polish, Romanian, Thai, Turkish, Bengali, Bulgarian, Czech, Greek, Latvian, Russian, Slovenian, Chinese, Persian, Malay. Further expansion with other languages is also planned (please contact the project Coordinator for details - slavik.tabakov@kcl.ac.uk).
With more than 200 contributors from 35 countries EMITEL is the largest international project in the profession. We are most grateful to all colleagues who volunteered to include their languages in the Dictionary with the noble goal to boost the global development of Medical Physics!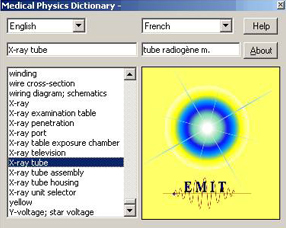 EMIT MEDICAL PHYSICS DICTIONARY