Welcome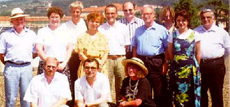 The last decade has seen great strides towards the emergence of professional training in Medical Physics and Engineering throughout the world.

The Leonardo EU project for European Medical Radiation Learning Development (EMERALD), a Consortium of Universities and Hospitals from the United Kingdom, Sweden, Italy and Portugal, has developed three training modules in medical radiation physics (X-ray Diagnostic Radiology, Nuclear Medicine, Radiotherapy).
EMERALD Project
EMERALD MATERIALS

WORKBOOKS
Each Training module incorporates: List of Competencies; Student Workbook with tasks (performance of each task leads to a specified competency); Structured Timetable (describing the approximate time necessary for each task).

CD ROMs
In order to provide possibilities for effective training with off-site (distance) studying of contemporary radiological equipment the EMERALD Consortium has developed a database of digital images. in three volumes (Diagnostic Radiology, Nuclear Medicine, Radiotherapy) on CD-ROMs.

INTERNET ISSUE
The new version of EMERALD will replace the existing paper-print materials. This digital form of the EMERALD Trainign materials will allow easy upgrade of the modules in future.
More Info